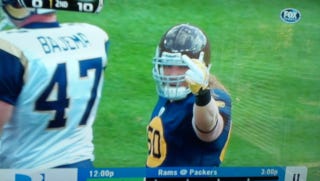 After Packers linebacker AJ Hawk flipped off his own sideline in Sunday's game against the Rams, he said it was a running joke with a couple of his teammates. Thing is, none of his teammates has come forward to admit any familiarity with this running joke.
During the postgame press conference yesterday, Hawk refused to identify who the teammates were or elaborate on the joke. And today, according to Pro Football Talk, Charles Woodson told Jim Rome, "From what I heard it was some kind of inside joke but I have no clue. I don't know who else knew about it either. I guess there were a couple people who knew about it but it caught everybody else off guard."
Because if there is one thing locker room inside jokes are known for, it is catching your teammates off guard.
Charles Woodson doesn't get A.J. Hawk's middle-finger "joke" [PFT]