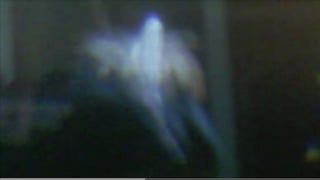 Time once again to play everybody's favorite game: Florida or Ohio? It's Ohio.
Dianne Carlisle is tired of these spirits boning in her suburban Cleveland home. All day long, it's ghosts humping on the couch, ghosts humping on the stairs, ghosts humping like they're at some sort of ghost orgy where no one has to worry about STDs because they're already dead.
What's that? It looks like it's just lens flare? Nah, says Carlisle, "they are having sex, you can see the lady's high heeled shoes!"
Family Says Ghosts 'Get Busy' in Their Home [FOX 8 Cleveland]