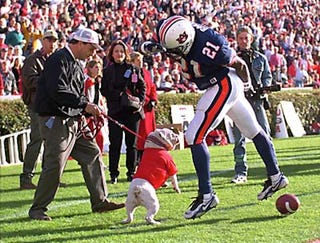 Now that that is over, how about we talk about some regular football games?
3:30 PM
TCU and Boise State kick things off for us on [snicker] Versus. Texas A&M travels to the great state of Kansas to play Kansas State on ABC. CBS has Auburn at Georgia, which will probably be the best game of the year. At least for all those people who love football fields enclosed by shrubs. ESPN viewers will get either Michigan at Illinois or Miami at Florida State.
Army is the home team against Rutgers in a game played at the hallowed-since-2009-grounds of Yankee Stadium. Not on television. Wisconsin plays Minnesota on the Big Ten Network, so that one's not really on television, either. Finally, Washington and USC battle on FX at 3:45 PM.
6:00 PM
Tennessee plays Arkansas on ESPN2. Oregon State at California and Utah at UCLA kickoff at 6:30.