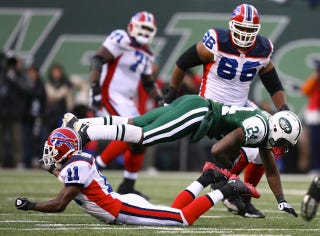 Hey! There's more football today, and not that sissy amateur stuff, either. Playoff races are taking shape and/or heating up. Let's chat about it, inside.
Houston at Jacksonville (CBS): At first glance, this game looks as thought it will be a bore. But then you remember that Matt Leinart is getting his first start of the year and you think mayb—Zzzzzzzzzzzzzz
Buffalo at NY Jets (CBS): The Bills are toast. The Jets are on a plate next to the toaster, waiting to go in. Losing this game will move them just a tiny bit closer to the toaster. The AFC, everyone!
Cleveland at Cincinnati (CBS): It would appear college football's Rivalry Week spilled into Sunday. You can decide for yourself which team I'm referring to—maybe both? Regardless, here's a nice, nonsensical quote about the expectations for Colt McCoy: "'I'm looking for him to lead the charge in terms of "show improvement and win the game" and I think that's what we're looking for as we go forward,' said Shurmur." [Plain Dealer]
Minnesota at Atlanta (FOX): Adrian Peterson was ruled out, according to Adam Schefter. If there's one good thing about Minnesota being absolutely terrible, it is the decided lack of any national awareness of Jared Allen. For that, I am belatedly thankful.
Arizona at St. Louis (FOX): Local outlets are saying the chances are slim for Kevin Kolb to be back for this game. Lucky for the Cards budding superstar John Skelton is on the scene. He will bounce back from his rough week with 600 yards and 5 touchdowns. He will not be stopped. I mean, it's St. Louis.
Carolina at Indianapolis (FOX): Cam should be able to get a win this week as he and the rest of the Panthers pay a visit to Indianapolis NotEvenTryingAnymores. This is just the most premeditated losing season ever. Manning has surgery on his neck, but Polian is all "Nah, he'll be back, besides, we're cool with Curtis Painter." There oughta be a law.
Tampa Bay at Tennessee (FOX): Now you've gone and done it, Buccaneers. You went and ticked off the folks at Tampabay.com and now they're writing accusatory headlines and wild analogy-riddled opening paragraphs. Way to go.
What You're Watching
Via The 506. CBS:
FOX (late games included):
Please Rise for The National Anthem