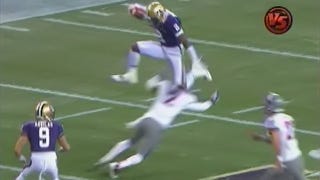 Your morning roundup for Nov. 27, the day we confirmed that Time is relative. Got any stories or photos for us? Tip your editors.
What we watched: Notre Dame at Stanford. The game was kind of close for a second, but it got out of hand and my mind wandered to Kirk Herbstreit. So dreamy.
Aside from his classic All America looks, I was struck by the amount of stuff this guy does. His day started very early on the set of College Gameday—in Alabama—where he got to hang out with Bo Jackson and a disappointingly non-blue Lee Corso. He then hopped a plane and traveled across the country to provide color commentary for the Notre Dame-Stanford game. That is some serious dedication to one's craft. After the game was essentially over, his broadcast partner Brent Musburger asked him about all those coaching for Urban Meyer rumors. Herbie denied the rumors saying he's already got his dream job. Maybe, but days like yesterday might make even coaching for Meyer at Ohio State look easy. Regardless, I was impressed. You're alright, Herbstreit.
Elsewhere
The game of the century redux: "'This team lost one game in overtime to a very, very good team who's No. 1 right now,' the Tide coach said. 'And we lost in overtime. Everybody's got to make their choices and decisions about that. But I think we've got a great football team and a great bunch of young men who have done a wonderful job and played some really dominant football on both sides of the ball. I think they deserve an opportunity, the best opportunity that's out there for them.' The Tide (11-1, 7-1 Southeastern Conference) have a week before finding out if its resume is good enough to secure a shot at a second national title in three years. Oklahoma State (No. 4 BCS, No. 5 AP) and No. 1 LSU have big games remaining against Oklahoma (No. 9 BCS, No. 12 AP) and No. 13 Georgia, respectively." [SI]
NBA players say the NBA players won, owners still own basketball teams: "Whether the handshake agreement the owners and players reached early Saturday morning on a new labor deal is ratified remains to be seen, but the players apparently did win some concessions on vital system issues — including the split of basketball-related income — that prompted union leaders to reject the previous offer without a vote, league sources said. NBPA executive director Billy Hunter told players Saturday night in a memo obtained by ESPN that the first step would be incorporating the new deal points into a litigation settlement agreement early next week. 'The NBA will then re-form as a union,' Hunter wrote, 'and negotiations may take place on various other CBA issues. The players will then vote to ratify a new CBA.' Hunter's memo also informed players that their share of BRI from the 2011-12 season will be 51.2 percent." [ESPN]
Your British guy narrating the death of various starfish in the name of science Interlude

A fiery bus crash claims six Togo Players and injures 28 others: "In a statement read on national television, the Togo government said president Faure Gnassingbe had ordered that those injured from the Etoile Filante club be taken to the military wing of the Lome Central Hospital to receive urgent medical attention. A delegation, led by sports minister Christophe Tchao, traveled to the accident site with an ambulance to evacuate the injured. he accident happened near the city of Atakpame, about 100 miles north of Lome, as Etoile Filante was on its way to Togo's second largest city of Sokode for Sunday's league game against Semassi. A tire is believed to have burst, causing the bus to topple over and plunge down a ravine. Some of the victims reportedly burnt to death. Eyewitness accounts said the bus flipped over several times as it crashed into the ravine." [AP]
Gary Speed was found dead in his home: Speed, who made 677 league appearances, was capped by his country 85 times (the most caps for an outfield player for Wales). He will be remembered for his wonderful left foot which helped Leeds United win the First Division in 1992. But he will perhaps be best remembered for being such a pivotal player in Bolton's rise under manager Sam Allardyce. He helped the Trotters reach sixth place in 2005 and qualify for the UEFA Cup where they reached the last 32. At Bolton, Speed became the first Premier League player to make 500 club appearances. [EPL Talk]
Merch: Managing editor Tom Scocca and contributing editor Drew Magary have both written books. You can buy Scocca's Beijing Welcomes You: Unveiling the Capital City of the Future here, and Magary's The Postmortal here. Now do it.
Send stories, photos, and anything else you might have to tips@deadspin.com.