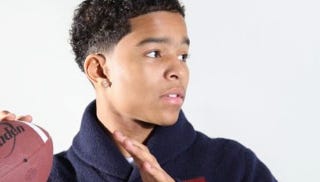 Justin Combs, son of the artist formerly known as a lot of different names and now known as Diddy, announced today that he will play football at UCLA next year.
Combs, a cornerback at Iona Prep in New Rochelle, N.Y., says he is not concerned about the fact that the Bruins do not have a head coach—Rick Neuheisel was fired yesterday—because his "love for UCLA is so strong."
"I'm committed to UCLA," Combs told Scout.com. "I was silently committed to UCLA for a while, but now was the time."
The Bruins lost to USC 50-0 on Saturday.
Combs, who once looked into a mirror and said, "Who's the flyest of them all?" on national television, is reportedly "fast." He also spent the summer playing for one of the nation's top 7-on-7 teams, the Goon Squad. He says he's not worried about the Bruins' coaching vacancy because "it's going to be a clean slate for everyone."
Plus—and let's be honest here—it's in L.A. We see you, Little Diddy.
Combs Headed West [Scout.com]
UCLA fires Rick Neuheisel [LA Times]