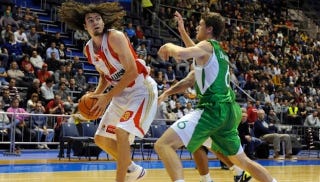 For today's edition of Former College Hoops Sweathearts: Where Are They Now?, we're checking in with former Gonzaga star and former No. 3 overall pick Adam Morrison. Again.
Last time we paid attention to him, Morrison was playing pretty decent basketball for a Serbian team, KK Crvena Zvezda (Red Star Belgrade), and he'd just gotten all fired up and thrown out of a game, to the delight of Red Star's home crowd. (He also looked like a burnt-out rock star, but that's to be expected.)
Today's check-in is a happier one, though, for Morrison is homeward-bound. His agreement with Red Star Belgrade didn't include an opt-out clause, but with the end of the NBA lockout, the team has chosen to release him from his one-year, $350,000 deal on a "good faith" gesture. The 27-year-old was averaging 15.5 points a game, and Sam Amick reports that he's "received significant interest from some Euroleague teams and is even confident he could return to the NBA."
Morrison plans to return to the States tomorrow and hopes to play "somewhere in the Western Hemisphere." Good for him—but according to the Official Deadspin Translator, Google.com, manager Davor Ristović and the rest of the Red Star community are having a sad:
We are very sorry that Morrison left the club, because it is an extraordinary man and top athletes. We thank him for his hard work, dedication and support he provided to our young team for the three months. All wish him much success later in his career.
Hopefully by our next edition of Where Are They Now?, Morrison will once again be on the Lakers sideline, comfortably pumping his fist all the way to his third NBA championship.
Morrison let out of Serbian deal, may join NBA free-agent class [Sports Illustrated]
Farewell Star and Morrison [KKCrvenaZvezda.rs]