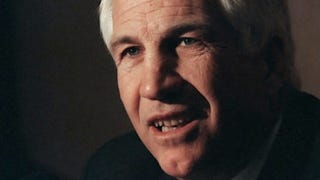 Yet another alleged Jerry Sandusky victim has come forward. The man is not one of the eight alleged victims in the grand jury presentment that led to Sandusky's arrest. He's a new one. And he's suing Sandusky, Penn State, and The Second Mile charity in Philadelphia court.
A few details: The plaintiff was 10 when he met Sandusky in 1992 through The Second Mile. The alleged abuse started soon thereafter, with Sandusky giving the boy gifts and taking him on trips, including to a bowl game (where some abuse allegedly took place). And that's not all that happened, according to the AP:
Former Penn State assistant football coach Jerry Sandusky sexually abused a young boy more than 100 times after meeting him through the charity he founded, then threatened the boy's family to keep him quiet about the encounters, according to a lawsuit filed Wednesday.