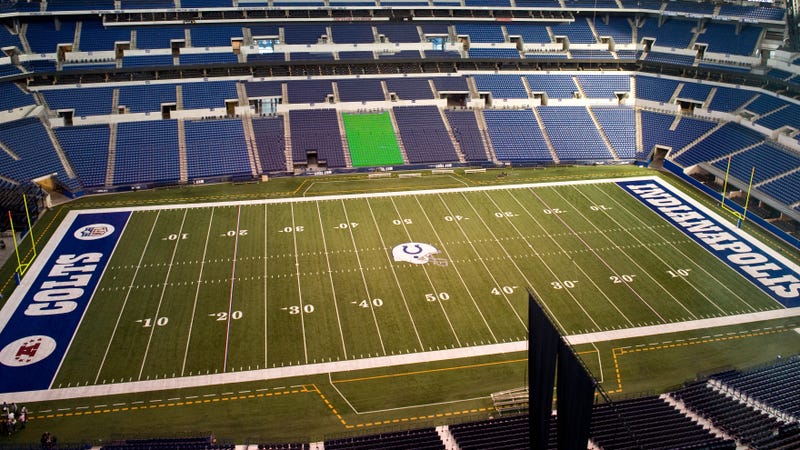 The portion of Lucas Oil Stadium highlighted in the above image is Section 113. Situated at the 50 yard line on the far side of the field, it contains the most prominent (from a television perspective) seats in the entire facility for the upcoming Big Ten Championship game between Wisconsin and Michigan State.
And as of 5:00 EST this afternoon, almost none of those seats had been sold, a fact that makes the mysterious Craigslist post offering $75 to seat-fillers even more intriguing.
Repeated searching and manipulation of the Ticketmaster system Wednesday afternoon found large swaths of tickets available starting in row 7 and in every row thereafter up to row 21. Overall, Deadspin found nearly 200 available tickets in section 113, the most desirable and (usually) first-sold-out of all sections. This despite assurances from the Big 10 conference, Michigan State, and Wisconsin that all ticket allotments had sold out and indeed that the public sales were closed out IN JULY.
So what happened? There are very few tickets available in Ticketmaster's first-sale market for any section other than 113 (we found them in 102 and 417, but nowhere else). Were the tickets reserved for an entity that at the last minute elected not to purchase them? We've reached out to relevant parties but have yet to receive an answer.
But given that the section of seats that would appear on television the most often is as of this afternoon almost entirely empty, it would be in someone's best interest to hire people to fill them.
UPDATE: A tipster who asked to remain anonymous provided some clues: Section 113 was allotted to a Big Ten "Premium Ticket Package" that was clearly less popular than they expected:
SECOND UPDATE: It was all a hoax.
[Lucas Oil Stadium image via Josh Hallett.]