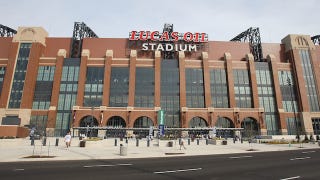 The Big Ten has already denied it was behind the Craigslist ad that offered people $75 to attend its conference championship game Saturday night. Now, the city of Indianapolis has denied it, too.
Robert Vane, who handles communications for the city of Indianapolis board that operates Lucas Oil Stadium, called me back early this evening to say, "We are not buying tickets to fill seats." Vane added he does not know how many tickets have in fact been sold for the game. Asked if he knew where the Craigslist ad had come from, Vane replied, "No one I talked to had any idea."
As Tim noted a little while ago, that pocket of still-available seats in the lower level on the 50-yard line might be those from a "Premium Ticket Package" that did not sell as well as the Big Ten might have hoped. And Will Flaherty, the director of communications for SeatGeek, a ticket search engine that compiles data from secondary ticket sellers, said his company's research shows the average ticket price for the game has fallen by 63 percent in the last 10 days.
That said, my email message expressing interest in the Craigslist ad has still received no response.
UPDATE: It was all a hoax.
[Photo via Getty]