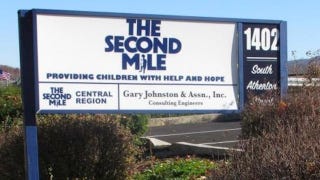 That was fast. Last Wednesday, a man claiming to be a new Sandusky victim came forward to sue The Second Mile (and Sandusky and Penn State, as well). The man, known as John Doe #4, claimed to have been sexually abused by Sandusky more than 100 times from 1992 to 1996, including in Sandusky's home, the PSU locker rooms, and at a bowl game.
On November 28, The Second Mile responded in court, saying John Doe #4's complaint had no merit and should be dismissed or transferred to State College. But the charity abruptly pivoted, according to Bloomberg:
The charity agreed to obtain court approval prior to transferring assets or closing down and provide notice to the plaintiff before any distribution of funds, attorney Ben Andreozzi said today in an e-mailed statement. Andreozzi represents a man identified as John Doe #4 in the complaint, filed Nov. 23 in Pennsylvania state court in Philadelphia.
The Second Mile has an estimated $7.9 million in net assets, according to court papers. Hard to imagine all of that was earmarked for scholarships.