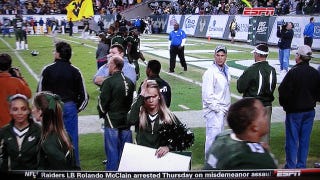 Your morning roundup for Dec. 2, the day we learned we've been hanging around a lot longer than we thought. H/T to Zach for the photo. Got any stories or photos for us? Tip your editors.
What we watched: Fletcher Smith, Donovan McNabb's agent, was at CenturyLink Field for Eagles-Seahawks. But, no—definitively, no—it was not for that reason. There was a strange irony to what happened last night in Seattle, the wakeup call arriving once and for all for the Dream Team Eagles on national television, mere hours after McNabb had been unceremoniously cut loose by the Vikings. McNabb and Andy Reid once towered over Philadelphia for what really was the the best decade in the franchise's nearly 80-year history. The quarterback's and the head coach's fortunes intertwined at the ground level of a rebuilding effort that reached fruition quickly and established consistency. But their collaboration was ultimately flawed just enough to fail to deliver the only prize the city's starving fan base seeks.
The Eagles broke off the McNabb-Reid partnership less than two years ago, several weeks after another playoff appearance ended with emptiness. McNabb's fortunes were never the same from there. The Eagles, by contrast, had thought they found renewal in a reformed Michael Vick, and their aggressive summer spending spree was done to give Reid everything he would need to finish what he and McNabb once started. In the end, on the same day, for all to see, both McNabb and Reid are still left wanting. Only now, it would seem, they're both left to wonder what comes next.
Elsewhere
Poynter does the Poynter version of slamming ESPN's coverage of the Syracuse scandal: "When it comes to behavior behind closed doors, journalists often hit a dead end. When this happens, a journalism investigation becomes like a detective's cold case. You can keep knocking on doors, even though the chances of turning up new information seem remote and you do so at the expense of other investigations. You can also put the investigation on a back burner, stoking it only when new information arises. Or, you can drop it, which is what ESPN did in 2003. We think the network gave up prematurely." [Poynter Review]
No one has anything nice to say about David Stern: "Fizziolo.gy has analyzed how people have been talking about the little guy with the big mouth on Twitter. It turns out they have learned his lessons well. The research outfit finds Tweeters' preferred tone when discussing Stern is: mockery. Their second favorite tone is 'derogatory.'" [TrueHoop]
They're not saying "boo"; they're saying "successful spinal fusion": "In a statement issued by the team Thursday night, Watkins said [Peyton] Manning's neck has finally healed—right in the two- to four-month timeline predicted by neck and back specialists who did not treat Manning." [AP]
JaMarcus Russell is supposedly getting off his couch: "Rumors are swirling that former LSU and Oakland Raiders quarterback JaMarcus Russell is interested in getting back into football—this time with the Louisiana Swashbucklers." [American Press, via PFT]
This is stupid: Fans are asked to pledge allegiance before UConn sporting events: "The idea came from interim athletic director Paul Pendergast, who was looking for a unique way to commemorate the 10th anniversary of the Sept. 11 terrorist attacks during a UConn football game, and got the idea after attending a chamber of commerce breakfast, where the pledge was recited." [AP]
A breakdown of the first Cotto-Margarito fight: Via HBO.com:
Tony Allen's Christmas is already ruined: "Tony Allen says that someone has stolen $20,000 worth of clothing out of a rental car that his mother was using. His mother returned a rent-a-car to Enterprise at 7263 Winchester, and left the goods in the car. She later realized that she didn't have the merchandise, called the rental car company and was told that nothing was found in the vehicle. Among the items stolen were high dollar sweaters, shoes, and shirts meant for the NBA star as Christmas gifts." [Fox Memphis]
New Orleans just wants to catch a break: "The Hornets, however, have been attempting to convince [Chris] Paul that there remains a long-term future for him in New Orleans. And two sources close to the situation said Paul has not requested a trade to New York or declined an extension. New Orleans general manager Dell Demps, who is clearly determined not to lose the franchise cornerstone for nothing in return next summer, has been fielding trade calls for Paul and is looking for the kind of high-level, young assets that the Knicks simply don't have. [SI]
Merch: Managing editor Tom Scocca and contributing editor Drew Magary have both written books. You can buy Scocca's Beijing Welcomes You: Unveiling the Capital City of the Future here, and Magary's The Postmortal here. Now do it.