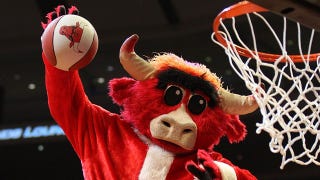 Let's recap: Celtics-Knicks at noon, Heat-Mavs at 2:30, Bulls-Lakers at 5, Magic-Thunder at 8, and Clippers-Warriors at 10:30. Also, this is the first day of the NBA season, after a couple weeks of practice.
This is too much basketball for a Sunday and too much basketball for Christmas Day.
Here's the Associated Press:
Oklahoma City will host Orlando before Blake Griffin and the Los Angeles Clippers visit Golden State on Christmas night, running the NBA's planned opening-day schedule to five games. Those games were added Friday to the three that were already set when the 2011-12 schedule was unveiled: Boston at New York, Miami at Dallas, and Chicago at the Los Angeles Lakers.
We like basketball, but we like Christmas. We like building a fire and listening to that Wham! song. We like having a dinner, at which various rich meats and bûches de nöel are served. We like luxuriating under the glow of Christmas lights. And the presents, too. The NFL recognizes these pleasures: it moved all but one of its games to Saturday, Christmas eve, and not because it feared competing with the NBA.
There were five basketball games last Christmas, but that wasn't a Sunday and it wasn't the season opener. We do not want to have to deal with the opening of the NBA season, and everything that entails. We do not want the ESPN assault. It's too much to process on Christmas Day and too much to process on a Sunday. We presume journalists around the country feel this way, and we presume the same for NBA season-ticket holders, and arena employees, and probably the coaches and players too, and the families of everyone previously enumerated.
We suppose too much basketball is better than no basketball at all. But it's a narrow margin.
NBA adds 2 games to Christmas opener [AP, via ESPN]