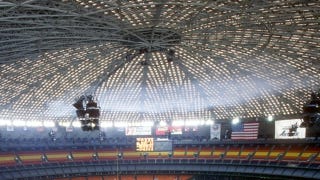 Ryan Holeywell at Governing.com decided to check in on Houston's Astrodome, which has become a blighted mess:
The facility inspired others, but eventually, tastes changed. Domes went out of style, especially as new technology made retractable roofs popular. The Oilers NFL team, which had played in the Astrodome since 1968, left after the 1996 season. The Astros left after 1999. The Houston Livestock Show and Rodeo—a tenant since 1966—left after its 2002 season. That was essentially the end for the building, which is owned by Harris County. In the wake of 2005's Hurricane Katrina, the Astrodome famously served as temporary housing for displaced Louisiana evacuees. The last event to be held at the Dome—a late-night, honky-tonk party affiliated with the rodeo—was more than three years ago. Today, the Astrodome doesn't even have an occupancy permit. It's been officially condemned by Houston's fire marshal.
The article quotes a number of experts who say that cities are best off demolishing and replacing vacant stadiums, but some Houston officials want to turn the Astrodome into a museum. (Apparently it has more to do with recognizing the building's architectural significance in the Space City than with commemorating J.R. Richard's legacy.) This means municipal squabbling while the building slowly decays, which is sad, to some folks.
"This could be quite a famous venue, if they did it right," he says, likening the Astrodome to the Colosseum in ancient Rome. "The Roman stuff? They didn't tear that down. It would be insane."
Uh.
When A Team Leaves Its Stadium, What Do You Do With the Building? [Governing]