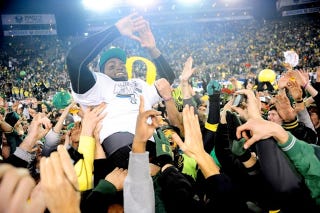 Your morning roundup for Dec. 3, the day nerdery became beautiful. Photo via the LA Times. Got any stories or photos for us? Tip your editors.
What we watched: It's finally December, so that means it is officially Christmas season. What better way to ring in the holiday season than with Ben Affleck?
Sweet, merciful Christ. I watched Surviving Christmas and it was awful. Not "want to murder everyone involved" awful, more like "are there better words than 'mortified' and 'embarrassed' to describe how I feel for everyone involved in this project? Probably not." awful. All you need to know is that Ben Affleck is wholly unbelievable in the role of clueless actor. I watched the whole thing.
In Case You Missed It
"Jason Whitlock had Bernie Fine's third accuser, Zach Tomaselli, on his podcast today. The 23-year-old spoke clearly and in detail about his memories of the two occasions he spent time with Bernie Fine, one of which he says involved sexual abuse. During the hour-long segment, Tomaselli told Whitlock that he believes ESPN reporter Mark Schwarz leaked his story to the Syracuse Post-Standard after it became clear that ESPN wouldn't run the story. Chronologically, though, the leak could have also come from either alleged Fine victim Bobby Davis or the Syracuse Police." Find the rest here.
Elsewhere
Shooting from the hip: "'I reacted without thinking,' Boeheim said about his initial response. 'I couldn't believe what I was hearing. I'm trying to learn from my mistake. That's all I can say. There is an investigation going on, which I fully support. We all need to know as much as we can as to what happened.' Boeheim said that he spent Thursday at the McMahon Ryan House for child abuse in Syracuse. He said he has raised money for the cause but now wants to take a more active role. Earlier Friday, newly named assistant coach Gerry McNamara said that the Fine case and firing has weighed on the staff. Boeheim said it has consumed him. 'It's been everything,' Boeheim said. 'I haven't really thought about the game. I didn't worry about my players being focused. I was focused for them at practice. But this is, this whole topic, it's not harder on me, it's people who have been abused that's who it's hard on,' Boeheim said. 'I've given a lot of money and raised a lot money but I want to do more in the future for kids in this area and McMahon Ryan is the best place in the area for kids to go and talk. They need to get this message out. They're not even concerned about me raising money but concerned about getting this message out. I will do everything I can do, whether I'm coaching or not coaching. I've always been committed to kids. There's no question in my mind that the issue of abuse is the number one that we should all be concerned about in this community. That's what I'm going to try to do.'" [ESPN]
See what he did there? And there?: "Woods had two eagles, and nearly had a third with a flop shot from behind the 13th green that he was still talking about long after his round. Not even a double bogey on the par-3 15th hole when a gust knocked his ball into the water could keep him from a comfortable lead after two rounds. 'I want the lead after four days,' said Woods, winless in his last 26 official starts dating to the Australian Masters in November 2009. 'Two days is nice, but four days is even better. I know I'm playing better, and it's nice to see my position on the leaderboard equating to it. 'Two stroke-play events in a row I've played really well.'" [CBS]
Your science guys are pretty weird Interlude

Suh is still out for two games: "Art Shell, the former player and coach who was jointly appointed by the N.F.L. and the players union to hear appeals of on-field discipline, upheld the two-game suspension first issued by the league's vice president for football operations, Merton Hanks. The decision was not unexpected, although Suh was said to be encouraged to go through the appeals process by both the union and Commissioner Roger Goodell. Hanks suspended Suh this week after Suh was ejected from the Lions' Thanksgiving Day game against the Green Bay Packers for stepping on Evan Dietrich-Smith's arm and shoving his helmet into the turf. " [NY times]
Yay...boo...yay...boo: "Manning and Colts medical staff held a conference call with Dr. Robert Watkins who said X-ray and CT examinations of the surgical area show that Manning's fusion is healing well. 'Peyton will now be allowed to increase the intensity and breadth of his workouts as tolerated. There remains every indication that his recovery will continue,' Dr. Watkins said. However, Dr. Watkins said there is still no timetable for Manning to return to practice, Manning said he is encouraged by what Dr. Watkins had to say and looks forward to continuing his rehab. 'I am happy that I can increase my rehabilitation program as outlined by him, Erin and the Colts Medical Staff. I am hopeful for continued progress in this next phase of my rehab,' Manning said in a statement. The Colts face the New England Patriots Sunday with Dan Orlovsky starting at quarterback."
Merch: Managing editor Tom Scocca and contributing editor Drew Magary have both written books. You can buy Scocca's Beijing Welcomes You: Unveiling the Capital City of the Future here, and Magary's The Postmortal here. Now do it.
Send stories, photos, and anything else you might have to tips@deadspin.com.