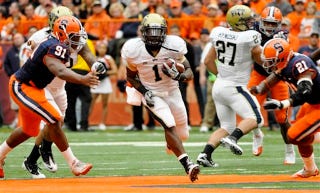 Consider this your designated area to discuss college football. But only the early games. We've got rules here, you know.
12:00 p.m.
The family of networks gets things going with the ex-Big East game, Syracuse at Pittsburgh can be seen on ESPN2. Connecticut at Cincinnati can be seen on ESPN and Southern Miss. at Houston is on ABC.
2:30 p.m.
Versus has UNLV at TCU.