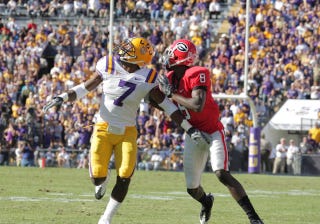 The quality of the games picks up a bit as we slog through championship day. Well, for the conferences that have championships, that is. Here's your space to talk it all over.
3:30 p.m.
ABC brings you Texas at Baylor and ESPN3 has Utah State at New Mexico State.
4:00 p.m.
CBS has the SEC Championship between LSU and Georgia. No one cares what happens in this game. ESPN3 will also be showing Idaho at Nevada (4:05 p.m.) an Troy at Arkansas State (4:30 p.m.).
6:00 p.m.
New Mexico at Boise State kicks off but is not on television. Sad face.