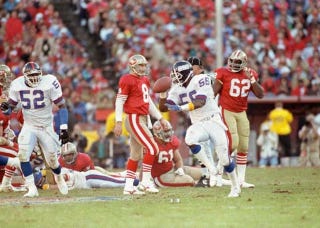 Welcome to the last open thread before the Super Bowl. I hope you've enjoyed yourselves and continue to do so down below.
New York Giants at San Francisco (FOX): So much to talk about with this game. The classic matchup. The intense coaches. The rated M for violent content. Wait, what?
The following game may be rated M for violent content.

"This is not going to be a cute football game," Giants defensive tackle Chris Canty said this past week. "It's not going to be for the meek and mild. This is going to be a bloodbath, that's what it's going to be. They don't try to make it a secret, they try to beat you up. We pride ourselves on being a physical football team. Something's gotta give on Sunday. Something's gotta give."
Well, alright then. Pride, physicality and bloodbaths. Welcome to the NATIONAL. FOOTBALL. LEAGUE.