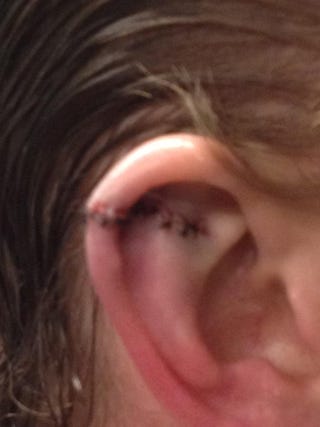 On Saturday, during an off-day practice in Pittsburgh, Alex Ovechkin took a shot on net. It went high, caromed around off the glass, and struck Matt Hendricks directly in the ear. Above is the "after" picture. The graphic photo below shows the damage: an inch-long gash in the cartilage.
"It hit me and it was kind of surprising," says Hendricks. "It felt like somebody came up and hit me in the head with a baseball bat. It stunned me.
Hendricks tells Dump 'n Chase that the panic only started setting in when his teammates took a look, and played up the gore. Luckily for Hendricks, the Penguins have a plastic surgeon on call, who stitched him up quickly. A custom ear flap was added to his helmet (though he did take another puck to the head three days later, which broke a few stitches), and he's good to go, just happy that there wasn't a concussion.
Hendricks Gets an Earful [Dump 'n Chase]