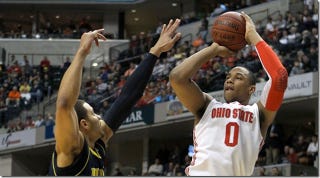 They play college basketball on Sunday, too! Feel free to talk about that and other goings on in the college basketball world down below.
12:00 p.m.
Notre Dame travels to Connecticut to take on the Huskies on ESPN3. New Hampshire takes on Vermont in the Arctic Hippie Challenge, also at noon, but alas, only on local television.
1:00 p.m.
CBS has got your Big Ten rivalry action covered as Michigan visits Ohio State. If you are looking for some ex-Big East, current ACC action, check out ESPN3 where you'll find Miami at Boston College.
6:00 p.m.
Georgia Tech at North Carolina can be found on ESPNU and Iowa at Indiana is on the Big Ten Network.
Finally, at 8:00 p.m., ESPNU has the classic Indiana matchup: Indiana State at Evansville, soon to be renamed Mattinglysville.