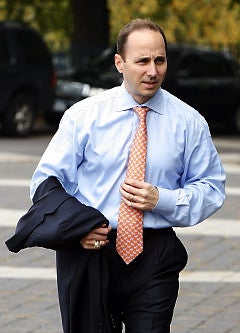 A 36-year-old Manhattan woman was arrested yesterday and faces charges of aggravated harassment of Yankees GM Brian Cashman, as well as stealing money from him.
Louise Neathway, 36, was awaiting arraignment in Manhattan Criminal Court Thursday after police arrested her Wednesday afternoon.

Neathway is facing aggravated harassment charges stemming from phone contact with Cashman. She is also charged with grand larceny and two counts of stealing a total of $6,200 from the victim.

A police source said Cashman helped lure Neathway into a police dragnet.
More on this soon, obviously.