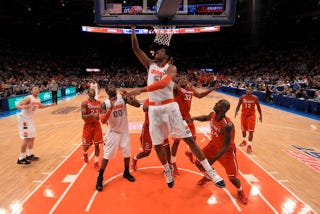 Here is your college basketball open thread. Enjoy discoursing with one another.
12:00 p.m.
ESPN brings up Syracuse at St. John's to start the day off. Seton Hall at UConn can be found on ESPN3 and LaSalle at St. Joseph's will be shown somewhere in Philly, I guess.
1:00 p.m.
Marquette at Notre Dame and Vanderbilt at Florida will be on CBS, depending on where you are in the country. Virginia at Florida State is on ESPN3 and Charlotte at Fordham is on the YES network.
2:00 p.m.
Temple at Rhode Island is on ESPN2 and Ohio State at Wisconsin is on ESPN.
4:00 p.m.
ESPN has North Carolina at Maryland while ESPN3 will be showing Rutgers at Louisville and Auburn at Mississippi State. ESPN2 has Middle Tennessee at Denver and the Mountain West Network will be showing UNLV at Wyoming.
Evening
ESPN has Kentucky at South Carolina and Kansas at Missouri, at 6:00 p.m. and 9:00 p.m., respectively. TCU at San Diego State will be on the Mountain West Network at 10:00 p.m.