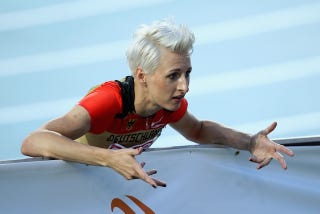 Rough times for stalkers/twisted assholes. Not long after Jon Lovitz took to Twitter to expose bullying tween-aged anti-Semites, German Olympian Ariane Friedrich chose to out a man on Facebook for stalking her and sending her a picture of his "genitals," otherwise known as "penis and testicles."
"I've been offended in the past, sexually harassed and I've had a stalker before," wrote Friedrich on Saturday on her Facebook page, where she posted the name and email address of the man who sent her a photo of his genitals in an email.

"It's time to act, it's time to defend myself. And that's what I'm doing. No more and no less," wrote the 28-year-old German high-jump record holder from Frankfurt.
Friedrich is currently training for the London Olympics so, if she makes it, she should be safe from unwanted pictures—we already know how strictly they're being monitored this time around.
h/t Tomuban
Athelete names and shames stalker online [thelocal]