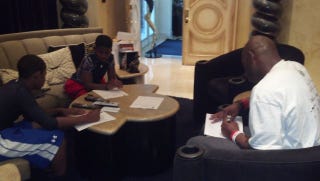 Deion Sanders has been having a rough go of things with the ex-Mrs. Deion lately. She's suing him for a bunch of money. But Deion, it appears, has the law on his side. He tweets:
DeionSanders Pray for me and my kids now! They just witnessed their mother and a friend jump me in my room. She's going to jail n I'm pressing charges!
DeionSanders I'm sad my boys witnessed this mess but I warned the police department here that she was gone try n harm me and my boys. This is on my mama!
Then he tweeted the above photo: "filling out police reports now! Thank God for this platform to issue the Truth." Yeah, we don't know anything about the truth. But at least we were moderately entertained.
@DeionSanders [Twitter]