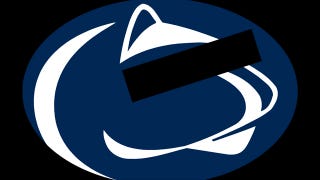 Penn State had hired the PR firm Ketchum on Nov. 6, just one day after two of its administrators were charged with lying to a grand jury about Jerry Sandusky's alleged child sex abuse. Here we are five months later, and the university is still working assiduously to repair its image, this time by replacing Ketchum with two firms, Edelman and La Torre Communications, at a cost of $2.5 million for the next 12 months. Here's Penn State president Rodney Erickson, in a statement announcing the move:
"Earlier this year, I announced five promises to guide Penn State in recovery from our recent crisis and rebuild trust with the Penn State community. Retaining these communications firms puts us more firmly on the path toward accountability, openness and preserving our reputation as one of the world's leading research universities."
That announcement was made on Penn State's website today—the same day a State College newspaper also reported that a group of Penn State students have begun a campaign to send letters of support to Sandusky's alleged victims. I'm sure it's just a coincidence.
Penn State retains Edelman and La Torre Communications [Penn State]
Penn State Hires Edelman and La Torre for Ongoing PR Support [Ad Age]
Group raises voice in support of alleged Jerry Sandusky victims [Centre Daily Times]