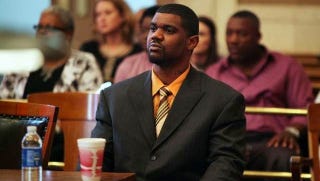 Nate Webster, a linebacker who played for the Buccaneers, Bengals and Broncos, was found guilty on a split verdict in a Cincinnati court today, for his relationship with the daughter of a Bengals employee.
Webster was chided by the girl's father, Tieger said, for not paying her for babysitting. When he did, he started the sexual relationship, the prosecutor added, and threatened to kill her and her family if she told. "As time went by this became a full-fledged secretive relationship," Tieger said.
The girl told her parents, who went to police. She was wearing a wire when Webster admitted having sex with her when she was 15. Webster's defense hinged on his insistence that the girl was 16, the age of consent in Ohio.
Webster was found guilty on four counts of unlawful sexual conduct with a minor, after turning down a plea deal that would have jailed him for four years. He will be sentenced on June 6 and faces up to 20 years in prison.