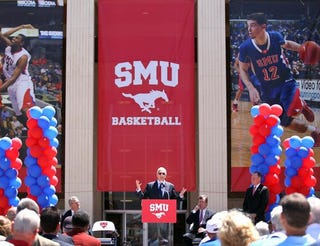 Larry Brown wields his mighty scythe, cutting three players just 48 hours after being introduced as Mustangs coach. Among them, point guard Jeremiah Samarrippas, who started his first two years. How did Brown break the news to Samarrippas on Wednesday?
"He basically told me that I wasn't good enough to play for him."
Oh. okay. That's cool.
Also cut: forwards Eric Norman and Ricmonds Vilde, who is originally from Latvia and will presumably be deported and become a political prisoner while Larry just laughs and laughs and starts looking for his next job. (Note: I am not up to date on the Latvian political situation.)
Brown's cutting down [Daily Campus]