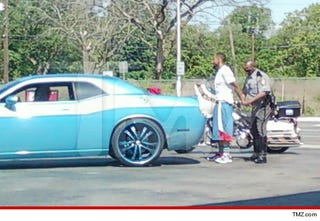 Yesterday, TMZ claimed to have obtained photos of DeSean Jackson being pulled over by a Pennsylvania state trooper Saturday morning, as he was on his way to a charity event for the pancreatic cancer foundation he created following his father's death in 2009.
Our sources say the trooper told DeSean he pulled him over for having tinted windows and suspected him of driving drunk. We're told the trooper ordered DeSean to perform a field sobriety test[.]
TMZ also reported that witnesses claimed the trooper recognized Jackson after pulling him over and was "very rough towards DeSean and was yelling at him the entire time." The same witness claims that Jackson did not give the trooper an attitude and was respectful throughout.

The photos obtained by TMZ certainly look like it could be Jackson, but they are all pretty blurry. Later, local news outlets picked up on the story by the time Jackson arrived at his charity event and tried to ask him about it.
[W]hen FOX 29 showed up at Jackson's event to fight pancreatic cancer, the wide receiver was in no mood to answer any questions about what happened.

In fact, he had security kick all local news media out of his event, an event we were invited to attend.
Jackson was reportedly let go without a ticket. Sounds like your classic power-tripping cop. Good for Jackson for not taking the bait. Allegedly.
DeSean Jackson Pulled Over On Way To Charity Event [Fox 29]
NFL Star DeSean Jackson Pulled Over on the Way to His Own Charity Event [TMZ]