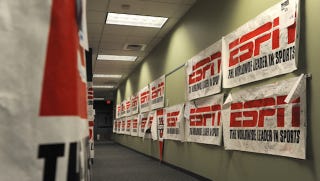 The substance was found in the mail room in three packages at the Worldwide Leader's campus in Bristol, according to NBC Connecticut, which added:
Some employees were exposed to the powder and are being decontaminated.

This comes after some local schools last week received letters with white powder. One of those letters said al-Qaida "is back."
Update (11:21 a.m.): Per ESPN flack Mike Soltys: "Local DEP officials have concluded their powder tests and have no concerns. Our mail room is back in operation and all employees are fine."