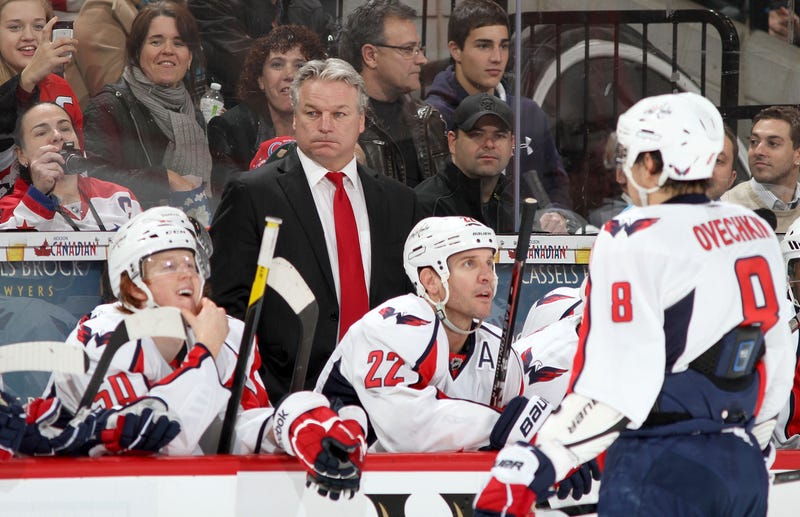 Dale Hunter will not return as coach of the Washington Capitals, it was announced just two days after the Caps lost a Game 7 in the Eastern Conference semifinals. It's a shock to just about everyone but the Capitals. As GM George McPhee said, "It wasn't unexpected."
Perhaps because the Caps were one game, or one goal here or there from the conference finals, there's a sense among Washington fans that this is a huge tragedy, an amazing coach stepping down before he could take the team to the next level. Not so sure about that. Including going 7-7 in the playoffs, Hunter's record after taking over midseason from Bruce Boudreau was 37-37. And that's with the emergence of Braden Holtby, the first competent netminder Washington has had in a while.
A .500 record and second-place finish in a woeful Southeast Division? A record that was percentage points worse than Boudreau's firing-worthy start of the season? We all got taken by a first-round upset of the defending champs, and a demotion of Alex Ovechkin to the fourth line that resulted in a game-winning goal, but the Dale Hunter Capitals were probably not a dynasty in the making.
Hunter's hire—and his departure—will set the Capitals back. They were a different sort of team under Hunter: Defensive-minded, shot-blocking, willing to cut stars' ice time. Now? Who knows. As the Post's Thomas Boswell writes,
How can you be Dale Hunter, get everybody to "buy into" your brutally painful way of playing hockey, have some success with it and then QUIT!!!???
The blame lies with Washington's front office, who brought in a coach with a radically different style, knowing full well he had no intentions of staying long. They signed him to a one-year contract specifically because he made clear he hoped to return to London, Ontario, his "hometown." It is unfathomable to me that the Caps braintrust would select someone planning to overhaul the entire system as a caretaker coach.
Now it's time to start from scratch. Will the 2012-2013 Capitals carry on a true team game, hustling on every shift and grinding for every opportunity? Or will they get another players' coach, who lets Ovechkin do whatever he wants? (And Ovie abuses long leashes like he abuses parking spots.) There's no continuity in Washington, and judging from the hiring of a guy who was counting down the days until he could bolt for home, there's not even consideration of continuity. Switching horses midstream for the sake of, what? Headlines? This was a lost season, not the first, and certaily not the last. There is no plan in DC. This is no way to run a franchise.