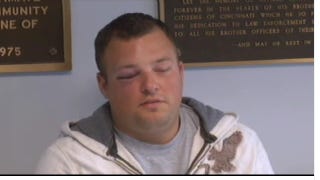 This much is certain, based on the Fox 19 report you can see for yourself here: Somebody gave Brian McLucas a giant shiner and bruised his left ear. But who? McLucas, a bouncer at a downtown Cincinnati nightclub, says several members of the UC basketball team assaulted him Saturday night after he confronted them because they were sitting at someone else's VIP table.
Fox 19's cameras were there when McLucas filled out a police report yesterday—what luck!—and here's the station's report on his version of what went down:
"I'm asking you guys to get up. You're drinking her alcohol," said McLucas. "And I said, you guys are making rude racial remarks towards her. And I said you guys need to get up."

The players apparently refused to move and became rather vocal at that point. "I said you guys need to calm down. And whenever I did that I looked to the right of me and right as I looked to the right of me I seen the dude take three quick steps and punch me in the eye," said McLucas.

PLAY night club's management did not want to comment at this time, but McLucas says his bosses know exactly which UC players were on the VIP list and inside play on Saturday night.
Color me surprised: Yes, this alleged incident comes just months after UC's infamous on-court brawl with crosstown rival Xavier. But I've been to Cincinnati. I had no idea that city had any downtown bars that stayed open after dark.
[Fox 19, via The Big Lead]