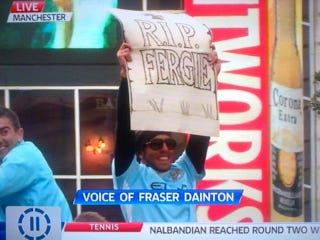 After a miracle at Etihad, two goals in stoppage time, gave City its first title since 1968, the team today celebrated with a parade. The trophy was carried through the streets of Manchester on an open-top bus, attended by delirious fans and at least one jubilant forward who does not forgive or forget.
In 2009, Carlos Tevez became the first player to make an intra-Manchester transfer in a decade. Neither has spent much time addressing the other, but we can presume the relationship was frosty: Sir Alex Ferguson pointedly referred to City's "desperation" when Tevez rejoined the club in March. That was probably just more mind games, and Fergie was magnanimous in defeat yesterday.
Tevez? Not so much. "RIP Fergie" is currently trending on Twitter, perhaps putting a scare into the unaware. Don't fear for Sir Alex's health: he's got Fergie Time on his side.