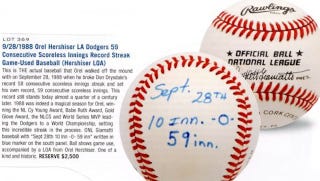 In an 18-year MLB career that included a Cy Young Award, a World Series MVP, and an LCS MVP in both leagues, Orel Hershiser accumulated a lot of stuff. But it's more than that: On his blog over at MLB.com, Keith Olbermann describes Hershiser as an avid sports memorabilia collector, and one with whom Olbermann has traded cards for some 25 years. But, in an effort to pare down his holdings, Hershiser is putting a number of items—"uniforms, jackets, gloves, trophies, baseballs, and even card sets," Olbermann says—up for sale.
Until recently, that bounty included a game ball from the last of the 10 shutout innings Hershiser pitched on Sept. 28, 1988. That was the night Hershiser ran his consecutive scoreless innings streak to a major-league record 59, the feat everyone remembers about his career. (In an interesting footnote of history, the Dodgers wound up losing that game, 2-1, when Mark Parent homered off Ricky Horton in the bottom of the 16th inning. No one seems to know where that ball is, though.)
As Olbermann explains:
As you see, the scoreless streak ball is in the Grey Flannels Auction catalogue. But you can't put in a bid, for $2500 or any other amount. At the company's website, Lot 369 is nowhere to be found.

The auction house explained to me today that Orel just couldn't bear to part with it. That would be a natural emotion for any of us collectors, so one can only imagine the emotional tug when it's the baseball you threw to set the record which happens to be yours.
Interested collectors will instead have to settle on bidding for Hershiser's MLB-sanctioned MVP trophy from the '88 World Series. He's still willing to part with that, apparently.
Hershiser Won't Auction Record-Breaking Baseball After All [Baseball Nerd]