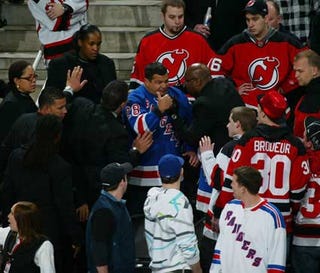 Compared to the old place at the Meadowlands, the Prudential Center is clean and modern...and really, really easy to get to from New York City. This tends to lead to the Rock being lousy with Rangers fans, something that could get a little embarrassing come playoff time. So the Devils aren't going to stand for it. Introducing: No Blue.
Through the power of a hashtaggable catchphrase, the Devils are appealing to their fans to do whatever it takes to maintain a home-ice advantage. Here are their "three ways to protect home ice."
• Don't sell your tickets to Rangers fans. "Blogs such as Fire and Ice, In Lou We Trust, and HFBoards provide you with outlets to speak directly with other Devils fans who are looking for seats. This will ensure you are selling ONLY to other Devils fans. You can ask for pictures or meet them to deliver tickets, to ensure where their loyalty lies."
• Don't sell your tickets to Rangers fans, part deux. "If you are unsure about conversing on Devils blogs to sell your tickets, you can call the Devils Fan Experience Team line at 855-DEV-ARMY, and as a service they will help you sell your seats you can't use, to other Devils fans."
• Buy tickets! "There is a window right NOW, for Devils fans to swallow up all the remaining tickets for the upcoming Devils home games at the Rock. Seize that opportunity now while it is still available."
Curiously missing from the list is a plea to fans to actually use their tickets to go to the games, instead of selling them for a profit.
This is doomed to fail, much like the Nationals' "Take Back The Park" campaign against Phillies fans. It's not a huge slight—when teams are close, there are always going to be lots of visitors. If the Devils win tonight, you can be sure you'll hear "Rangers suck" chants over the silence of the home crowd.
Meanwhile, in the Western Conference, the Coyotes would be thrilled to have Kings fans make the drive for tonight's game. It's the conference finals, and seats can be had on StubHub for as little as $23. They ought to have the place nearly full by puck drop—in game one, the Jobing.com arena was literally one fan shy of a sellout.