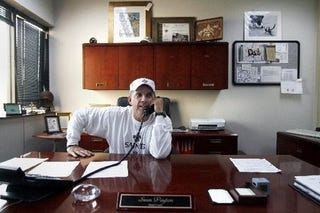 New Orleans is getting used to life without Sean Payton, who has begun serving a one-year suspension for his role in the bounty scandal. There was always the possibility that the Saints would handle the situation quietly and without hyperbole or fanfare, not wanting to draw attention to the actions that have made them one of the most hated teams in the league. Oh, who are we kidding, there was never that possibility.
"How would Pittsburgh react if Chuck Knoll [sic] was gone? Or how would Dallas react if Tom Landry wasn't there? Or San Francisco without Bill Walsh?"
Christ. That's interim coach Joe Vitt, drawing totally appropriate comparisons. Payton has "rented" an office in the Benson (as in Saints owner Tom) Tower next door to the Superdome. Why does he need an office, when he can't talk football, and can't even say hi to team employees without having a lawyer present? Great question.
Payton will remain in the Saints' hearts for ever and ever, with very visible reminders. Much like every boring Passover Seder with an empty chair and place setting for Elijah, the Saints will leave Payton's seat empty on the team bus, team plane, and at team meetings. He's a god now.
Sean Payton needed league approval for office space [NFL.com]