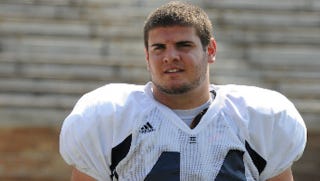 Notre Dame quarterback Tommy Rees initially was the one who looked like he was in deep shit after what allegedly happened when cops broke up a huge off-campus house party two weeks ago. Rees faces misdemeanor charges including resisting arrest and battery, though prosecutors did reduce that latter charge from a felony even though Rees is accused of kneeing a cop in the stomach before having to be pepper-sprayed.
But it's Fighting Irish linebacker Carlo Calabrese who now finds himself in additional trouble for allegedly trying to intervene that night. Calabrese, listed as a junior in 2011, had been charged with disorderly conduct, but today prosecutors tacked on a misdemeanor charge of intimidation because he allegedly threatened one of the arresting officers, Sgt. Dorian Finley.
The Chicago Tribune has the details:
Prosecutors said Calabrese asked Finley "if he knew a particular officer," then "stated that he knows people," then "asked if Officer Finley was a Notre Dame football fan."

The charging documents state Finley responded that it was "irrelevant," to which Calabrese allegedly responded "that it was relevant and that Officer Finley did not like Notre Dame football by how he (Finley) was acting toward him and his teammates."

Once Rees was taken away by police, prosecutors said, Calabrese told Finley "My people will get you." Prosecutors said Finley asked Calabrese if he was threatening him, to which Calabrese allegedly repeated "My people will get you."
It was at that point, court documents say, that Calabrese showed just how tough he was by engaging in a little "Don't hold me back, bro!" with some of those at the scene:
Prosecutors said members of the onlooking crowd walked Calabrese back toward the house, and then Calabrese "yelled and pushed away" from those individuals. Finley ordered Calabrese to come over to him, prosecutors said, and Calabrese walked away. After another order caused Calabrese to increase his walking pace, prosecutors said, Finley ran after Calabrese, grabbed his arm and arrested him.
Both Calabrese and Rees have court hearings scheduled for tomorrow.
Notre Dame LB Calabrese charged with intimidation [Chicago Tribune]
h/t to Steve P.