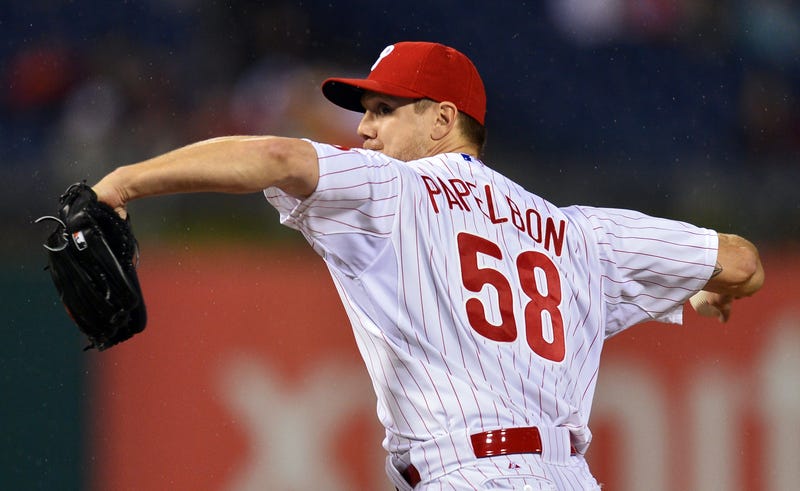 Every morning, the fine folks at Sports Radio Interviews sift through the a.m. drive-time chatter to bring you the best interviews with coaches, players, and personalities across the sports landscape. Today: That's short of Cinco Ocho, of course.
Jonathan Papelbon joined WEEI in Boston with Rob Bradford (aired on Mut and Merloni) to discuss no wanting to return to the Boston Red Sox, his lack of confidence in the Red Sox training camp, the Red Sox training staff chirping in his ear throughout his time in Boston, not feeling bad for leaving the Red Sox after the team collapsed last September, his confidence to close games and the culture of the Red Sox clubhouse.
Did you potentially want to return to Boston as a free agent?
"A lot of it depended on who's coming and who's going out? Who was staying there and who was going to be leaving? I'm talking about medical. I'm talking about coaches. I'm talking about players. I'm talking about everything."
What are your thoughts on the Red Sox training staff?
"I know myself better than anybody. I know myself better than any trainer in Boston tried to tell me they knew me better. That goes with experience in knowing yourself and trusting yourself and listening to what you have to listen to and not listening to thing you know are going to make you stay durable."
On the Red Sox training staff telling him what to do everyday?
"The previous trainer there tried to tell me everything and that he knew everything about me. It's just not the case. I know myself. I know how to get through a 162-game season. The trainer don't know how to do that and the trainers here (in Philadelphia) have been phenomenal. They understand that I am going to be successful because I know how to be successful. I still did things my way when I was there in Boston. I just had someone chirping in my ear the whole time."
Did you feel about leaving the Red Sox after the chaos of the collapse last September?
"I don't feel bad. No. Cinco is gutless man. I don't feel bad for people."
On his ability and confidence to close?
"I am confident in my ability and ain't nobody going to tell me what to do. Nobody tells Cinco what to do."
What did you think of the Red Sox clubhouse? Does it need to be blown up after what you saw last year?
"That starting staff is some professional pitchers man. I don't care who you are in the big leagues. You are going to go through rough patches, especially in that division, but the thing is that personally I would want those guys to go to war with to go through those rough patches cause they know how to get out of it. There is no doubt about that."
This post, written by Steven Cuce, appears courtesy of Sports Radio Interviews. For the complete highlights of the interview, as well as audio, click here.
More from Sports Radio Interviews
• Rick Carlisle wants Dirk to be the second-best player on the Mavs.
• Drew Brees is getting seriously frustrated.
• Mike Shanahan says this Redskins team will be nothing like all those other Redskins teams.