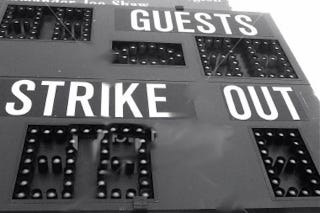 La Crescent senior pitcher Eric Veglahn was already having a pretty solid game before he set a Minnesota state record by striking out five batters in the same inning last month. Heading into the seventh inning, Veglahn had eight strikeouts when he decided to try and double his tally in one inning.
Let's not all hop on the Eric Veglahn-is-an-unstoppable-force bandwagon, just yet, though (his 101 K's for the season, notwithstanding). As one would expect, he found his way into the record books with a little help from his battery mate.
After fanning eight through six innings, Veglahn continued his dominance in the seventh. He struck out the first two batters looking.

The third batter went down swinging, but the catcher couldn't field the breaking pitch, allowing the runner to reach first.

"That should have been the third out," La Crescent coach Rick Boyer said. "Then the next one got away and I thought, 'Oh my goodness.' "

Veglahn struck out the fourth batter, but another passed ball allowed him to reach base. With runners at first and second, the tying run came to the plate.

Veglahn struck him out, too.
Five in one is rare, but it has happened before. Wikipedia informs that it has happened at least three times at the minor league level, most recently it appears by Mark Montgomery for the Charleston Riverdogs. Clearly Montgomery's catcher also had a problem corralling pitches in the dirt.
It has also happened in the Major Leagues, just not a regular season game—so it doesn't count. Houston Astros knuckleballer Joe Niekro struck out five in one inning in a spring training game against the Twins in 1976.
Perhaps being a catcher is not as thankless a job as it appears. We only remember the pitchers' names for these feats, not the guys who couldn't find the ball in time to record an out. Twice.
h/t Jesse D.
Veglahn tosses epic inning [MN Baseball Hub]