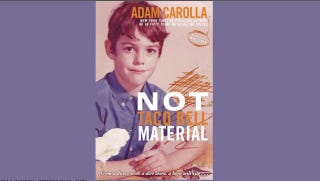 Adam Carolla, friend of Deadspin, co-creator of The Man Show, co-host of Loveline, and the host of The Adam Carolla Show podcast, has written his life story. To quote the book jacket, "Not Taco Bell Material is a tale of depressed parents, public nudity, fecal matter, fist fights, Tijuana road trips, stripper girlfriends, magic mushrooms, flatulence, vandalism, perverted landlords, obnoxious celebrities, ass geysers, and complaining—lots of complaining." So, it's super boring.
The esteemed author took some time away from podcasting to answer a few probing questions:
Q: If you could choose a celebrity to be your roommate in an uninsulated garage, who would it be and why?
Adam Carolla: Katharine Hepburn. She doesn't take up a lot of room, and I could play my music as loud as I wanted.
Q: How did you choose your touchdown dance (in which you mimic crapping out the football) when there are so many options?
Adam Carolla: It came to me in a dream when I fell asleep on the shitter.
Q: Any tips for dating a stripper?
Adam Carolla: Don't get them pregnant, not because they don't make wonderful mothers, it's just hard to dance when you're in your third trimester.
Let Carolla read you a bedtime story. Here he is, talking Tijuana (i.e., street tacos, strippers gyrating to a trio of octogenarians, and ye olde donkey show).
Check out an excerpt below and click here to order your copy of Not Taco Bell Material, the best Father's Day gift—if you have a specific kind of dad.