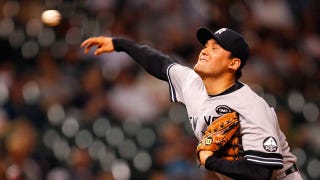 Not too long ago we treated you to a very important update about Chan Ho Park's continuing career as a South Korean baseball player and rapper/insurance pitchman.
Shortly after posting that story, I received an enticing e-mail from a reader named Allen:
Hi,

I was wondering if you had the email address for the Hanwha Eagles. I want to contact them to see if they would be interest in purchasing 162 Chan Ho Park 1994 baseball rookie cards. They are finest, bowman best, bowman, etc (see attached list). Or if you know anyone else interested in buying these rookie cards.

I live in Seoul.

Thanks, Allen
I responded to Allen's e-mail, and with Craggs' permission offered him $8.53 for the entire set of cards.
His reply:
Hi Tom,

Thanks for the offer but $8 is a little low. I was thinking more like $300.

Take care, Allen
So, I now pass along this once-in-a-lifetime opportunity to you, loyal Deadspin readers. If you'd like to take Allen up on his offer, let me know, and I'll try to broker a deal for you.
Oh, and he also sent along this helpful spreadsheet illustrating how many of each type of rookie card he has in order to assist you in your decision making: