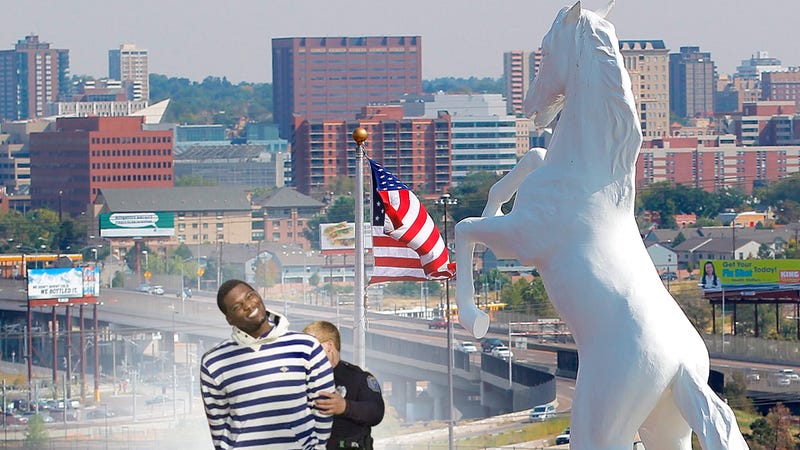 Welcome back for round two of our Sunday coverage. Rolando McClain cannot hide his excitement and neither can we, let's get to it. Don't forget about our open thread, which you can find here.
Cincinnati at Jacksonville (CBS): Sometimes a football game has a storyline that is so obvious and so in-your-face that it will dominate the broadcast. This is one of those games. I don't even need to mention it* because there might as well be a giant, pulsing neon arrow pointing at this game. It should be a fun game and an obvious choice for a late-afternoon start. Perfect choice to get the second half of our Sunday started.
Oakland at Denver (CBS): The power of Peyton Manning is undeniable. Denver's first two games of the year were on primetime (Sunday and Monday night, respectively) and their last two games have drawn the vaunted Nantz-Simms duo from CBS. There is a logjam at the bottom of the AFC West with the Raiders, Broncos and Kansas City (who are trying to mount a comeback against division-leading San Diego) all at 1-2 so we could potentially be just a few interceptions away from Peyton in the cellar yelling about orange traffic drums and refrigerated condiments.
Miami at Arizona (CBS): The Arizona Cardinals are 3-0 which is a testament to the unbelievable character of John Skelton. Even though he's been sidelined by injury, he's had an enormous influence on the team and some say has actually carried Arizona despite his absence. Teammates love the guy and must have decided to win a few for the old "Bag 'o Bones," as he is affectionately known. I'm afraid even if the Dolphins "[p]lay a "perfect" game"—number 5 on the list, btw—they are no match for a team channeling John Skelton's might.
New Orleans at Green Bay (FOX): People probably had this one circled on the calendar as an early season spectacle. Some of the juice is out of this one thanks to there only being one win between the two teams, but we at least have the replacement referee redemption storyline for the Packers. The Saints? Who gives a shit, nobody outside of New Orleans likes you guys and nothing would be sweeter than a 3-13 season. It would really mean a lot for the rest of our country. We need this and we're so lucky to have the Saints be there for us.
Washington at Tampa Bay (FOX): Remember when Josh Freeman was awesome back in 2010? He was a leader and people said all those other things people say about quarterbacks because they are supposed to be said about quarterbacks. It's been a few years since then and things are...not good. "Josh Freeman has the worst completion percentage in the NFC at 51.3 and his passer rating of 71.4 is fifth worst in the league." Greg Schiano wants to move past the victory formation thing (even though he did it again against the Cowboys). That's good. Why not try being known for fixing your quarterback so maybe he can try out the victory formation?
*Exotic cats. The storyline is exotic cats.
What You're Watching
Via The 506. CBS:

FOX:

Top image by Jim Cooke