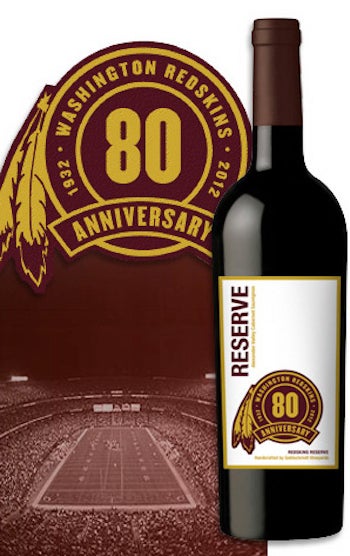 The Washington Redskins are celebrating their 80th anniversary of existence as a franchise. For 79 of those years, they have been called the Redskins. So, let's sell some booze! But not just any booze. A "limited edition" and "rare[ly] combin[ed]" red wine, a cab sav if you're wondering, is the way to go for football fans. The research bears this out, too.
The concept started with a company called Wine by Design, which looked at the numbers and found that a large percentage of football fans are wine drinkers.

"All of the people who are attending these games know good food and know good wine," says Diane Karle, CEO and owner of Wine by Design. "So why not offer better wine? The teams were like, 'Yeah, it's a no brainer.'"
As with most harebrained schemes, this one started with the Jets a couple years ago. They have since added two more varieties to the original 2010 cabernet under the "Uncorked" label.
You can get a regular bottle of this "burgundy" for $29.79 or a magnum, if you're the kind of football fan that needs a magnum of Redskins wine, for $59.99. It'll come in handy when Robert Griffin III inevitably goes down with a leg injury and I bet even pairs nicely with some homemade chili.
h/t Ryan