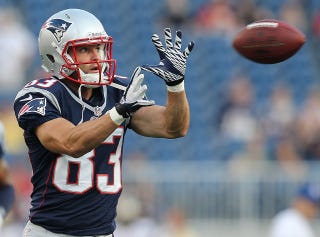 When Wes Welker didn't sign a long-term contract with the Patriots and instead signed a $9.5 million franchise tag, sportswriters found their new go-to sidebar: "Is Wes Welker being phased out of the Patriots' offense because he wouldn't commit long-term? Probably!"
Week 1: Welker has three catches for 14 yards against the Titans.
Tony Manfred of Business Insider chooses a subtle headline regarding Welker's lack of production: "The Wes Welker Era For The New England Patriots Is Dead."
Karen Guregian, Boston Herald:
One game doesn't tell the story about Wes Welker. His three catches in Sunday's 34-13 win shouldn't set the bar. Nor should his reduction in playing time against the Titans necessarily set the tone for what lies ahead for this season.

But it certainly does make you think.
Vinnie Iyer, Sporting News:
The New England Patriots look like they're planning on not having wide receiver Wes Welker as part of their offense beyond 2012.
Austin Martin, Pats Pulpit:
I'm not trying to start anything, but again- value. What is Welker's value to the offense?

Welker's been to 2 Super Bowls in his five years, but has nothing to show for it. Not that any of the blame is on him, but would Lloyd have made "the catch?" Could Deion and Edelman replace him for snaps, for much less of a cost?
A lot has changed over the years with the Patriots, but the constant reliable has been the connection between Tom Brady and Wes Welker.

If the season opener against Tennessee is any indication, though, things might be a little different this year.
Rodger Sherman, SB Nation:
It's clear the Patriots are enamored with their two-tight end set featuring two very talented pass catchers with size and blocking ability. It appears that combination could spell the end of Welker's turn as a Patriots' star.
Mike Reiss, ESPN Boston:
Welker had a quiet game (3 catches for 14 yards) and this type of plan — and his playing time — makes one wonder if it's the potential beginning of a less Welker-centric attack.
James Walker, ESPN:
Is Welker's role being reduced?

As Reiss points out, Welker played in 89.2 percent of New England's offensive plays in 2011. His snaps in Week 1 were down by 25 percent compared to last season. Welker only had three catches for 14 yards. Was this just a singular gameplan this week or a sign of things to come for Welker in 2012?
Gethin Coolbaugh, SB Nation Boston:
Maybe he just wasn't part of the game plan this week? Sure, that's possible. Or maybe, just maybe, this was designed by Bill Belichick and the Patriots' brass to phase out Welker.
Maybe.
Week 2: Welker has five catches for 95 yards against the Cardinals.
Cris Carter, ESPN:
"They're phasing Wes Welker out in New England," Carter said on ESPN Radio's Mike and Mike show this morning...
Greg A. Bedard, Boston Globe:
After the Patriots' absolutely stunning - and, really, inexcusable - 20-18 loss to the Cardinals Sunday at Gillette Stadium, there can be no doubt: Welker was set to be phased out of the Patriots' offense.
Josh Katzowitz, Eye On Football:
Most likely, this will be his final season in New England — even though he's on record as saying he wants to return — and through the first two weeks of the season, it appears that the Patriots are trying to phase out Welker. Slightly, at least.
WEEI's Gerry Callahan, Boston Herald:
Say it ain't so, Bill. Say you didn't demote Wes Welker simply because he refused to sign a team-friendly, long-term contract. Say you're not that petty, that personal, that vindictive. Say you have too much respect for the most prolific receiver in the NFL over the last five years and a guy who lays his body on the line for the Patriots every Sunday.
Howard Ulman, AP:
In two games, Welker has been on the field for 70.5 percent of the offensive snaps, although that almost certainly would have been lower if tight end Aaron Hernandez hadn't suffered a right ankle injury on the third play that knocked him out of last Sunday's 20-18 loss to the Arizona Cardinals.

In the previous four seasons, Welker participated in 75 percent of the snaps with the Patriots in 2008 (75.2 percent in the first two games), 72.8 percent in 2009 (73.7 percent), 76 percent in 2010 (61.3 percent) and 88.9 percent in 2011 (84.2 percent), according to ProFootballFocus.com.
Welker had eight catches for 142 yards in Week 3 and nine catches for 129 yards in Week 4.
Now that this narrative is dead, allow us to help you find a new one, lazy sportswriters. Hey, check this out! Mike Wallace, who's also on a one-year deal after not agreeing to an extension, played 93% of snaps in Week 1, and 70% in Week 2 of the 2011 season. In the first two games this season, Wallace has played 86% and 60%, respectively.
The Steelers are trying to phase out Mike Wallace!