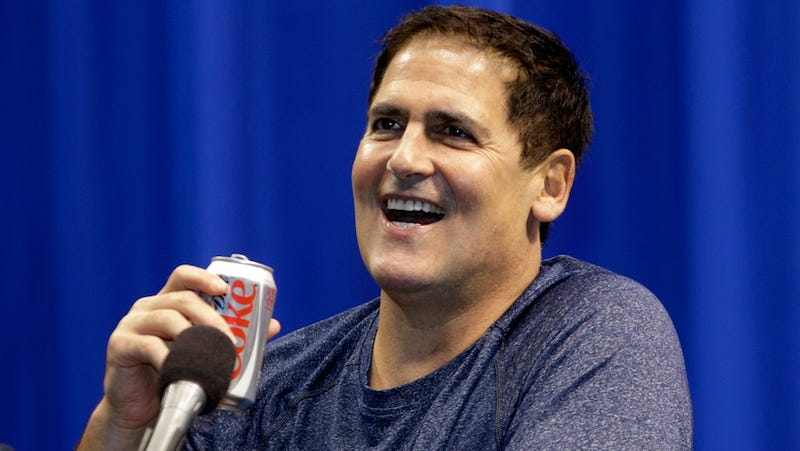 Every morning, the fine folks at Sports Radio Interviews sift through the a.m. drive-time chatter to bring you the best interviews with coaches, players, and personalities across the sports landscape. Today: Cubes thinks it's a matter of time before the Sonics return to Seattle.
Mark Cuban joined Mitch Levy on KJR in Seattle to discuss the future of the NBA in Seattle and the potential for a team moving to the city to fill the void left by the Sonics.
On what he'd tell a Shark Tank contestant with a proposal to bring the NBA back to Seattle:
"I would tell them that's a great idea. I love the idea, but unfortunately I don't see any expansion franchises coming anytime soon, so he's going to have to buy and relocate a team. And from there, then, it's up to him. I'd love to see a team back in Seattle. As you guys know, I thought it was a mistake to leave. I voted against it. I think it's a great basketball market; I think it's a great market in general. But now we are where we are, and I don't see the NBA expanding."
On if the NBA has missed Seattle or if that's not a fair assessment:
"I don't think it's a fair assessment. Obviously Oklahoma City's done a great job, and so when I say I'm pro-Seattle, it doesn't mean I'm anti-Oklahoma City. In reality, among our small-market teams they've probably done the best. And so as much as people don't really like Clay, Clay has done a good job down there. … Based on where we are, there are teams that would pop into consideration."
On the Sacramento Kings being a prime candidate to move to Seattle:
"I don't think the NBA looks at that in terms of, 'Let's push one team to go here or there.' Every owner that has an NBA team, it's their baby. It's up to them to determine what's best for them. And so - whether Sacramento or any team - it's going to be up to somebody to go in there and acquire the team, and then make an application to move the team to Seattle. What I can tell you is I can't imagine any owner standing in the way of that. … I'd be shocked if any owner stood up and said that was a bad idea."
This post, written by Brad Gagnon, appears courtesy of Sports Radio Interviews. For the complete highlights of the interview, as well as audio, click here.
More from Sports Radio Interviews
• LeBron James is incapable of human emotions.
• The Lakers celebrated Christmas a little early.
• Dirk Nowitzki is acclimating to married life.