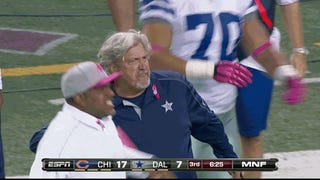 The Bears smacked around the Cowboys tonight 34-18, a score that sounds even worse when you remember the Bears gave up a garbage touchdown to Jason Witten in the final half minute of play. Brandon Marshall had a big game on the field and on the broadcast. He wound up with 138 yards and one touchdown and ESPN spent seemingly half the game talking about his borderline personality disorder.
Matt Forte's return was nothing special, and he was held to 13 carries and 54 yards. And that's really about it.
Oh! Tony Romo had five interceptions. Five. That is a lot of interceptions to throw in one game. Silver lining: only two were returned for touchdowns. Rob Ryan is a defensive guy, sure, but his words speak for the team and Cowboys "Nation." And maybe Jerry Jones, too, if Romo's agent should call tonight.