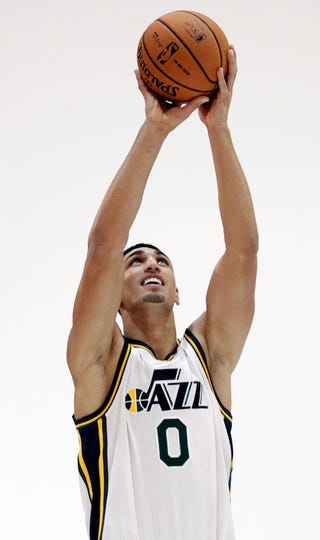 Jazz big man Enes Kanter documented the latter part of the randomness that was his "Summer of Enes" on Twitter:
• A tour of Playboy HQ.
• Hanging with that dude who played Peter Brady.
• Kissing alligators.
• Pleas for blondes to join him for dinner, and for brunettes to give him a massage.
But he also really pigged out before getting really serious. The 6-11 Kanter's listed weight last season was close to 270 pounds; he's reportedly down to 242, but he didn't get there directly.
Kanter came to Salt Lake weighing 51 pounds less than he did after packing on about 20 postseason pounds during a trip home that apparently included way too much Turkish delight.

[...]

The second-year pro credited "The Enes Kanter Diet" for helping him shed a whopping 51 pounds in two months. The simple regiment: dressing-free salads, seafood and a smorgasbord of tweets.
Wait. Twitter helped him lose weight? How's that work? Oh, right: Kanter also tweeted much about his actual workouts. But how'd he gain those 20 pounds to begin with?
A sample day in the eating life of chunkier Kanter: a six-egg omelet, seven or eight pancakes with strawberries and whipped cream and a burrito for breakfast; chicken alfredo pasta, a burger and an appetizer for lunch; and a big meal including another burger and dessert for dinner.
Yep. That'll do it.
[Deseret News, via SLAM]