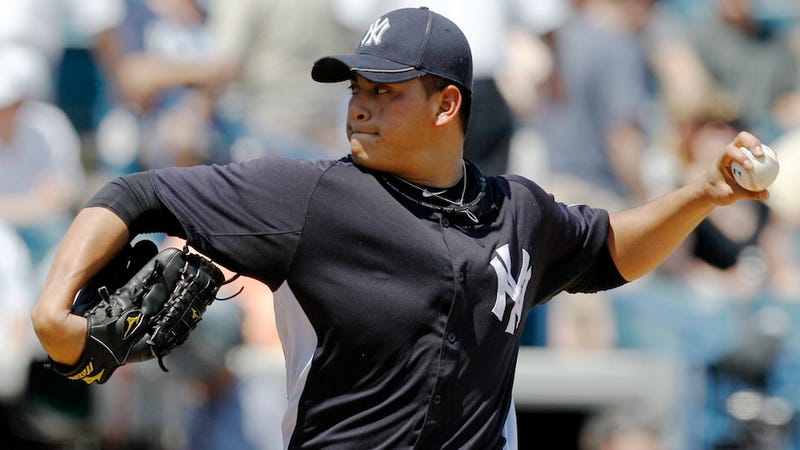 The big Stephen Strasburg shutdown debate seems ancient now, with beads of cheap champagne lining plastic sheeting in the dumpsters out behind Nationals Park. But recall that Nationals GM Mike Rizzo—and Strasburg's agent, Scott Boras—insisted that the "doctors" supported their conclusions to end Strasburg's season after 170 innings to prevent further injury. They wouldn't elaborate on which doctors they were, of course, or where those doctors had published their findings, but, hey, it was science!, and who are we to argue with science!?
Anyway, the story of Yankees farmhand Manny Banuelos isn't any more than a data point, but it's a data point that doesn't do anything in favor of the Nats' claims.
The Yankees announced today that the 21-year-old Banuelos, the team's top pitching prospect, would undergo Tommy John surgery and miss all of 2013. He had been out since May with elbow troubles, but the Yankees had imagined, until today, that they would be able to treat him without surgery.
Banuelos needs surgery despite the Yankees doing everything the modern conventional wisdom says to do with pitchers. He was limited to 130 innings last year. He pitched only 64 regular-season innings in 2010, because of an appendectomy at the start of the season, but he added more during the Arizona Fall League. And in 2009, he threw just 109 innings.
Banuelos's arm has not been taxed in the way cautionary tales' arms have been taxed, and yet, here he is, under the knife. It's almost as if repeatedly throwing a projectile at speeds greater than 90 miles an hour might cause unpredictable, varying joint troubles in some people.
Manny Banuelos needs elbow surgery [ESPN NY]