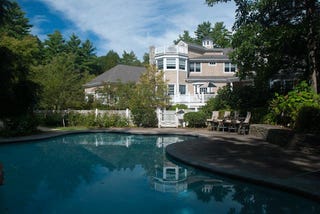 The new season of 30 for 30 kicks off tonight with Broke, a look at pro athletes' penchants for burning through their fortunes. One of them is Curt Schilling, whose video game company not only went bankrupt, but blew tens of millions of dollars worth of shady taxpayer-funded loans. So it's maybe coincidence, maybe not, that last week Schilling put his Boston-area mansion on the market—and he's asking less than half of what he originally wanted for the place.
WPRI reports that Schilling's 26-acre, 7-bedroom Medfield, Mass., home is up for sale. The place looks lovely, and there's an added bonus—it was once owned by Drew Bledsoe! So it might be a bargain at $3.5 million, especially considering Schilling tried to sell the place in 2008 for $8 million.
In happier news for Schilling, 38 Studios won't face federal charges. A Rhode Island investigation is still ongoing.
[WPRI]