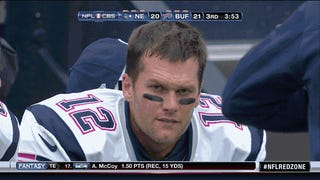 Tom Brady was involved in one of the best GIFs of Week 4 when he was caught on camera saying "Fuck you, bitches" after running for a four-yard touchdown. But no one was able to discern who the "bitches" were. The Buffalo Bills? The fans in Ralph Wilson Stadium?
Now, Wes Welker has come forward with the answer. It turns out that he and fellow receiver Deion Branch were the "bitches" in question. From Boston.com:
"I think it was kind of directed at, towards me and Deion [Branch] a little bit," Welker said today on WEEI's Mut and Merloni show. "We were giving him a hard time that his knee was down and we didn't know what he was doing on the bench over there. He better get his butt up and get back out on the field because his knee was down and so he's like, 'what are you talking about, I was in.' So I think they caught him at a perfect moment where we were just kind of just jawing back and forth and things like that."
If you look at the GIF closely, you can see Welker chuckling to Brady's right. Apparently, he's not being phased out of catching insults.
Wes Welker reveals targets of Tom Brady's sideline curse [Boston.com]