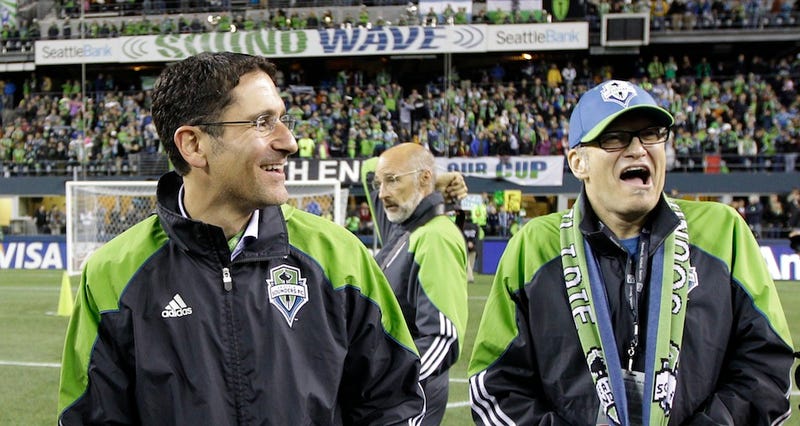 Because Major League Soccer is Major League Soccer, they have to go to greater lengths to enter the national consciousness. Sometimes that ends up ugly: recall that young lady who sang the anthem. But sometimes it's glorious! Remember when MLS mailed us a big box of premade cheesesteaks? Glorious meat, in glorious bags.
And now, more glory, to which we're regrettably late: the Seattle Sounders—the MLS team co-owned by Drew Carey—will let season-ticket holders decide their general manager's fate. Here's Mary Pilon, in The New York Times:
Beginning Sunday, and ending Dec. 7, Sounders fans will head to the polls (at the stadium or online from home) and cast ballots on whether the team should retain general manager Adrian Hanauer.

"At first, it sounded like a gimmick," said Kevin Zelko, the founder of the Gorilla F.C. fan club. "But now we're getting to do it. It's great to see it happen."

While some European clubs like Barcelona and Real Madrid in Spain have long allowed fans to vote on their management, American sports fans must resort to less official avenues—sports radio, online forums and e-mails to the team—to convey their wishes.

If Sounders fans vote to replace Hanauer, the team's owners would have to find a new general manager.
Hanauer (at left, with Carey) is a minority owner of the team, so he wouldn't take his canning as hard as, say, Ned Colletti would. He'd still be involved with the team, and he's got business interests he can use to occupy his time. Colletti would just have very sad brunches with Omar Minaya. Besides, an online poll on King 5 in Seattle says Hanauer should expect to keep his job.
Alas, the Times concludes that we shouldn't expect to see this in other leagues anytime soon. That's really a shame, given how the average American sports fan expresses himself.